YOUR POSITION:
world's smallest high performance A4 colour printer
2021-04-01
OKI has launched the C650, the world's smallest A4 colour printer in its class. The printer itself measures 290x435x430mm. Available in Southeast Asia from this month, the new C650 delivers class-leading performance, media-handling, and cost-efficiency found typically on larger workgroup business printers. Designed for any office with limited space, the C650 will fit comfortably in the smallest of spaces without sacrificing performance. Thus, its performance and size make it ideal for use across many sectors, including retail, hotels, restaurants, healthcare, education, and construction.
Designed for situations that require a workgroup printer that fits into a small space, the C650 uses Oki's LED technology to 35 pages per minute.
One space-saving feature is that access is only required to the front of the printer, and just 2cm clearance is needed around the sides.
Media sizes from B8 up to sheets that are 1.32m long are accommodated, with weights from 60gsm to 256gsm.
Paper capacity is 250 sheets in the main tray plus 100 sheets in the multi-purpose tray, with optional second, third and fourth trays holding 530 sheets each. Duplex printing is supported.
USB 2.0 and Gigabit Ethernet interfaces are standard, with Wi-Fi (802.11n) as an option.
Like other Oki printers, the 1200dpi C650 uses separate toner cartridges (nominally 6,000 pages from the colour cartridges and 7000 for black) and a long-life (50,000 page) drum. Note that the starter cartridges are food for around 3,000 pages.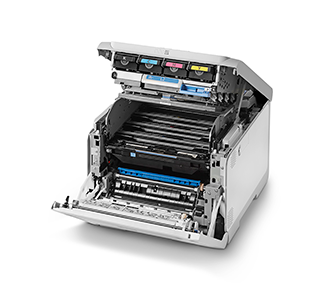 The company says it makes extensive use of metal rather than plastic parts for durability.
The recommended average duty cycle is 8,000 pages a month, with a maximum of 100,000.
Reliability was a key area of focus in the C650's development. The extensive use of high-value componentry in place of plastic makes this one of the most robust printers in its class, guaranteeing a long and hassle-free life. Separate toners and long-life drums enable a high duty-cycle plus maximum use of consumables. The C650 is thus ideal for organizations requiring high-volume printing and high-colour coverage.